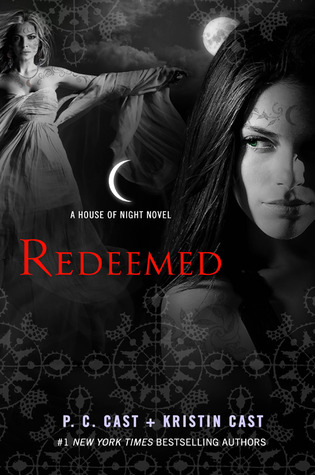 In the final electrifying novel in the HoN series, Neferet has finally made herself known to mortals. A Dark Goddess is loose on Tulsa and the world. No single vampyre is strong enough to vanquish her – unless that creature has the power to summon the elements as well as the ability to wield Old Magick. Only Zoey Redbird is heir to such power…but because of the consequences of using Old Magick, she is unable to help. Find out who will win and who will lose in this epic battle of Light versus Darkness.
---
Hello everyone this is the last book in the series, I wasn't going to review it originally but when I read the end I felt I had to.  Overall with this book I was not happy with it.  I have been a fan of the series but once I read to about the 6/7 book I started to lose interest.  I have been reading this series since I was about 13/14 I would say and now I am 21 on the weekend and I have only just completed the series.  I think that maybe I was more interested when I was younger because it was the most exciting fantasy book I had read along with Twilight, however as I have grown and read a lot of other books I have come to realise that this book was not to the standards of the previous books in the series.
The series I feel has carried on for way too long, it came to the point where I left this book on the side for months sometimes because there was other books that were more interesting.
Like I said I did like the series until half way through, but I felt I had to carry on reading because I needed to see if the group or "nerd herd" defeated Neferet in the end or not.  But since finishing this book I found that the book was so anticlimactic, most of the books spent ages again discussing the characters which could have taken a couple pages, and then when the fight came at the end it only last a chapter if that!  I just wish the fight was more dramatic and that there was more to read of it because it was just so short.
Looking at the series overall I would definitely say now that all the books are out in the series that I would recommend this book to younger readers about 15 as there are some sexual scenes in the first couple books.  But for the older reader I think this book is just to simplistic and not that exciting.  But like I said previously the first couple books were really interesting, I just think a lot of these books could have been cut out to make it shorter.
I apologise if this hasn't agreed with your views, there are mixed reviews of this book however from what I have read on comments a lot of older readers are agreeing with me with exactly the same comment sometimes harsher in regards to racism and how the book was worded in certain areas.  But everyone has different opinions, this review is only my opinion.
---
I hope I haven't put those that love the series off :s as there are still a lot of fans who loved this book.  I am just glad I stuck to it and completed the series as I cannot leave a series alone until I have the ending.
I am now looking for more books to read such as , fantasy, fiction and romance.  I only have two more books to read and then I need to get back to buying some more.
Thankyou all for taking the time to read this review, don't forget to follow me on twitter : creechhan and Instagram: hannahbunz,  I also have the links to my goodreads bookshelf in the right hand column.
Love you all
Hannah
xoxox