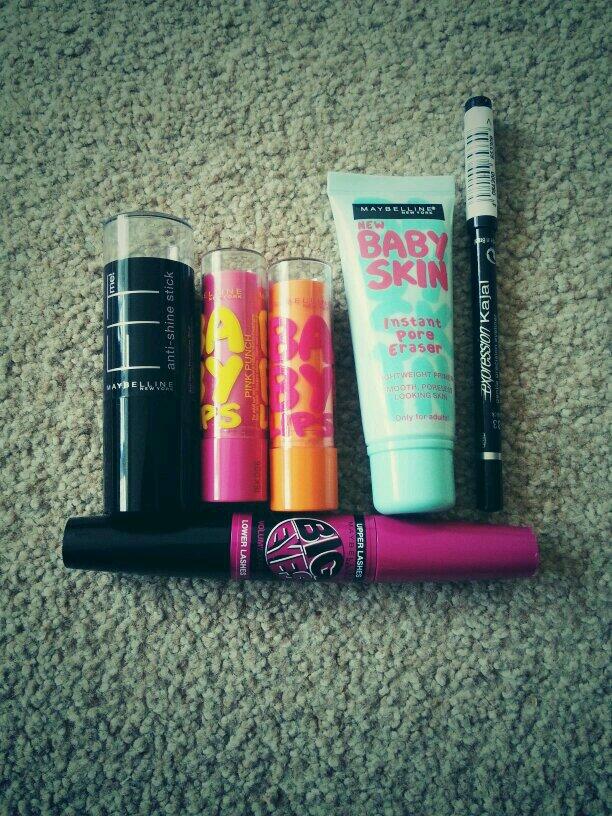 Big Eyes Mascara:
This mascara is amazing it has a larger spiral brush at one end for your upper lashes and then a thin brush at the other end for the small lower lashes.  I have an image on Instagram of how my lashes appeared after one go.

The Baby Lips balms OMG I am in love with these.
I saw that these are a huge hit with everyone that I have seen, and there are so many blog posts on these.
The colours I have are cherry me and Pink punch.
In the first use there is a small colour pay off which is lovely and subtle, but my lips feel so moisturized I cannot wait to buy more.

This is the Maybelline Expression Kajal eyeliner which I love the colour pay off is worth the money and I find it such a smooth pencil to work across my eyes.  In the past I have found some eyeliners that are hard to use on the eyes to get colour but this was so easy.

Umm the photo is upside down :p I have no idea why.
This is the Maybelline fit me Foundation anti shine stick which I was very apprehensive about buying but I am so glad that I did now.
I got this in the lightest shade which I believe was Ivory, unfortunately they only had 3 shades which were light otherwise I would have bought a dark one for contouring, it is that good.
This is definitely anti shine and perfect for covering small imperfections.
For reviews on any of these products comment below and I would be happy to review them for you.
For more photos on these products and finished looks follow me via Instagram where I have a few finished makeup looks and a lot of outfits as well as books that I love.
So check them in the sidebar, my instagram name is Hannahbunz
Hope you all liked this post I know it has been a while.
So yeah leave a comment below on suggested posts and I will speak soon.
Hannah
xoxox